Americhem is world-renowned for developing high-performance thermoplastic compounds for analytical equipment. Learn why so many analytical equipment manufacturers rely on us to address their material challenges each day.
OUR CUSTOM ENGINEERED COMPOUNDS ENSURE THE INTEGRITY OF YOUR ANALYTICAL EQUIPMENT
When customers invest in industrial analytical equipment, they expect precise testing results and years of dependable use. Americhem helps equipment manufacturers design with confidence, knowing our innovative plastics will allow them to produce high-quality components that ensure the most reliable analyses possible. At Americhem, we're dedicated to manufacturing and supplying high-grade customized plastics for analytical equipment that withstand the most demanding environmental conditions and protect the integrity of your products. From sample and test prep containers and inspection kits to portable gauges, benchtop instruments and gas analyzers, we offer an extensive portfolio of industrial-grade engineered compounds to optimize performance and meet cost targets.
Ready to improve the material composition of your testing products?
The plastic components used throughout your custom analytical equipment can impact evaluation results. Let Americhem's industrial material specialists address any unique challenges or requirements of your specific application. Click the button below to gain access to unmatched technical expertise.
Contact a Representative Now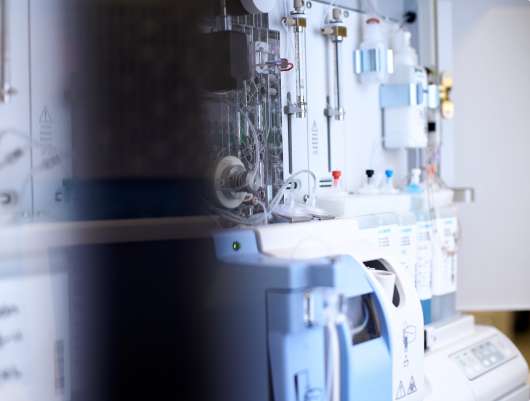 UNLIMITED COMPOUNDING TECHNOLOGY FOR ANALYTICAL EQUIPMENT
Americhem understands that your customers' quality processes depend on data derived from your analytical equipment. That's why we are methodical in our approach to developing compounds that meet exact requirements. Using our knowledge of polymer morphology and structure, we select appropriate base resins that are typically amorphous, semicrystalline, blends/alloys or elastomers. We enhance the properties of these resins by adding glass fiber reinforcements, carbon reinforcements, color additives and other product additives to attain higher performance than traditional materials. Whether you need to achieve greater strength, toughness, flammability, conductivity, lubricity, wear resistance or thermal stability, we can arrive at a formula that results in a true custom plastic for analytical equipment.
DEDICATED PRODUCT LINES TO SHAPE YOUR SUCCESS
Material consistency and standardization of color in analytical equipment products require a polymer matrix formulated with correct additive loading and dispersion. Americhem offers well-established lines of engineered compounds that take the guesswork out of specifying plastic for analytical equipment. With our InStruc® structurally reinforced compounds, InLube™ internally lubricated compounds and alloys, InElec® electrically active compounds and ColorFast® precolored engineering resins, you can realize significant advantages that have been proven for years across multiple industrial markets. When searching for a polymer manufacturer that can support a wide range of industrial analytical equipment material needs, Americhem can help you avoid the pitfalls associated with inferior or non-demonstrated plastic solutions.
SOLUTIONS TAILORED TO SPECIFIC MARKET APPLICATIONS
Americhem's additives and reinforcements are highly dependent on each equipment application, its end-use and environmental exposure. For hydraulic oil test kits, for example, we typically start with compatible base resins like PBT or wear resistant additives like PTFE that won't degrade or cause damage to the material being analyzed. Critical instruments like portable gas analyzers require hard, weather-proof polycarbonate casings to protect sensitive controls due to polycarbonate's inherently high impact strength and durability. When developing custom plastic solutions for benchtop testing devices, we look at what type of fatigue and motion its components must endure and impart flexural strength and lubricity accordingly. In semiconductor and instrumentation analyzer technologies, we can address flame retardancy and static concerns with our custom engineered compounds. No matter how advanced your analytical equipment may be, our material experts have the knowledge and expertise to help you achieve the attributes you need to become or remain a market leader.
SUPPORT SERVICES THAT ALWAYS MEASURE UP
Beyond excellence in thermoplastic compounding, Americhem's material engineers offer complete analytical testing services, which include flammability testing, physical and thermal property analysis, and weatherability testing to ensure your product performs as expected. We are widely known for providing detailed regulatory documentation and support, helping reduce complexity and speeding time to market. Our technical support is unmatched, and our highly committed team stays focused on our customer's projects from initial concept through final production. We are continually evaluating raw materials to offer the highest quality products at the most cost-effective price with no minimum order size.