Design freedom. Accelerate time to market. Allow for mass customization. The Additive Manufacturing industry is prepared for an explosive growth, and it is expected to disrupt the manufacturing supply chain as we know it. Americhem Engineered Compounds offers custom formulations to assist you in your additive manufacturing journey.
Custom Compounds for Custom Processes
As the Additive Manufacturing industry progresses beyond tooling, jigs, fixtures and prototype parts, demands on dimensional control, isotropic performance and surface quality continue to be paramount along with demands for faster cycle time during production.
Americhem Engineered Compounds has extensive knowhow in compounding technology and decades of experience in formulating solutions with thermoplastic fillers and additives. We work closely with our customers to provide you with the materials that meet your specific processes and application requirements.
Do you need help finding the right compound or masterbatch supplier for your project?
At Americhem, we are committed to developing polymeric solutions for our customers that face an array of challenges during their manufacturing processes. Click the button below to tell us about your wants, needs, or problems you face in your projects; we'll come up with a compound or masterbatch solution for you.
Tell Us About Your Project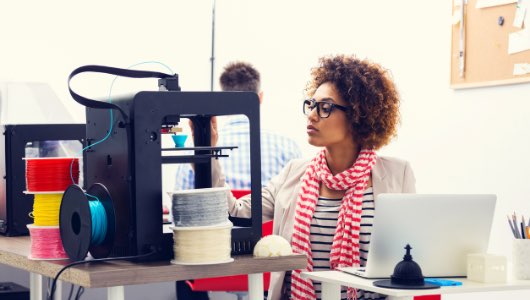 Formulation Expertise
Compounds for Additive Manufacturing have unique requirements, including particle size, viscosity, and tight tolerances. We understand how to formulate materials that pass UL Blue Card standards, ISO 10993 biomedical standards, and other stringent requirements.
Compounds for Additive Manufacturing have unique requirements as they are highly dependent on the machine manufacturer's process. Americhem Engineered Compounds is dedicated to supporting the industry with specialty formulations to meet your specific requirements.
Fillers & Reinforcements
Regardless if you make filaments or powder, Americhem Engineered Compounds is able to help with custom formulations. Do you wish to experiment with different fillers or additives to improve the application performance? Do you wish to dial-in the filler loading, fiber length, or filler particle size to improve your processability or cycle time?
AEC has the experience and knowledge to produce specialty filaments, powder, resins, and compounds for 3D printing that are durable, easy to process, and cost-effective.
Americhem's Bottom Line Is Improving Yours For
Additive Manufacturing & 3D Printing
The Additive Manufacturing process has opened a new world of opportunities for suppliers and manufacturers. Americhem has placed an emphasis on developing compounds that fit your unique process requirements. We offer a wide array of specialty engineered compounds for today's demanding applications in Additive Manufacturing & 3D Printing:

ColorFast® Engineered Compounds
Adding color to your designs has never been easier than with Americhem's ColorFast® pre-colored engineering resins. Whether you are looking to boost your brand identity or differentiate your products, ColorFast® is intended to provide you with shorter lead times and precise color matches.

InStruc® Structurally Reinforced Compounds
Dimensional control and isotropic behavior are a known challenge in the Additive Manufacturing world. Glass fibers, glass beads, carbon fiber, and other fillers can be used to help with final part dimensional stability while also enhancing mechanical performance.

InTherm™ Thermally Conductive Compounds
Whether thermal conductivity is required by your process or by your application, Americhem's InTherm™ product line makes use of specialty fillers available in several resins systems. This product line utilizes both electrically conductive and insulative additives.