For over 25 years, Americhem has led the TPE industry with innovative thermoplastic elastomer compounding solutions that support multiple global markets. Get your TPE material questions answered here and learn how we can engineer customized thermoplastic compounds for your unique application.

WHAT IS TPE?
Thermoplastic elastomers, or TPEs, are a unique class of melt-processable polymers that exhibit rubber-like characteristics, including the ability to stretch without deformation and possess a soft-touch feel. The resilient behavior of these polymers is largely attributed to their chemical structural bonds, which are not fully cross-linked, imparting high elastic properties.
WHAT IS TPE MADE OF?
All TPEs are made of crystalline and amorphous material. These can be blends of alloys and polymers, or they can be block co-polymers comprised of blocks of crystalline and amorphous domains along the same polymer chain.
TPE & THERMOPLASTIC ELASTOMER APPLICATIONS
Casters, food & beverage seals, pet toys, tubing, personal care, wearables, appliances & white goods, building & construction seals

Automotive Sealing Systems
WHAT ARE THE KEY PROPERTIES OF TPE?
Different types of TPE will perform at varying levels based on their chemical composition. Generally speaking, TPEs offer the following characteristics:
Excellent flexural and tensile strength
Good chemical/tear/wear/weathering resistance
High impact strength with elastic recovery
Excellent adhesion to different substrates
Efficient processability across all production methods
Good creep dimensional stability
Good electrical properties
Wide operating temperature range
HOW DO THERMOPLASTIC ELASTOMERS DIFFER FROM THERMOSET RUBBER?
The main difference between thermoplastic elastomers and thermoset rubber involves the type of cross-linking bond within their structures. A thermoset is fully cross-linked, so the resulting part cannot be reheated and remolded. The chemical structure of thermoplastic elastomers allows them to soften or melt into liquid form when heated, allowing them to be formed into a shape and then hardened. The process is reversible, as no chemical bonding takes place.
WHAT ARE THE ADVANTAGES OF TPE MATERIAL COMPARED TO THERMOSET RUBBER?
TPEs have excellent physical properties that make them easier and more efficient to process while providing greater design flexibility and mechanical stability than thermoset rubber. The following are just a few advantages of TPE material when compared to thermoset rubber.
Meets stiffness and elongation requirements
Can be processed using injection molding, blow molding, compression molding and extrusion techniques
Lower fabrication and energy costs
Excellent adhesion to different substrates
Wide hardness range of 15A to 90A on the Shore hardness scale
More environmentally friendly (non-toxic and non-polluting during production)
Can be re-melted and recycled
Non-toxic and safe for people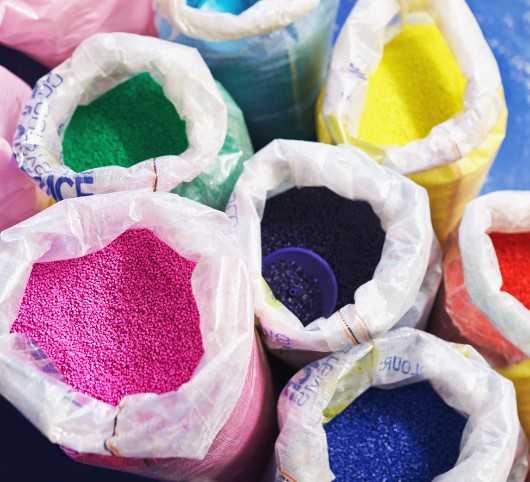 TPE Material Offerings
Americhem can optimize the performance of these TPE materials, tailoring them for injection molding, blow molding, compression molding and extrusion applications.
TPE COLOR ADDITIVES & EFFECTS FROM AMERICHEM
Are you wondering how TPE material can be customized? Americhem offers extensive compounding solutions for virtually every market application. Whether you need a specific soft-touch feel or grip, antimicrobial protection, flame resistance or internally lubricated parts, we will create a product formula that meets all critical requirements and offers consistent, repeatable manufacturing, batch after batch.
Antifungal & antimicrobial
Heat, ozone, and/or UV resistance
Lubricated and low coefficient surfaces
TPE Related Industries
Casters, food & beverage seals, pet toys, tubing, personal care, wearables, appliances & white goods, building & construction seals
WHY ARE THERMOPLASTIC ELASTOMERS IDEAL FOR OVERMOLDING AND CO-EXTRUDING?
TPEs are excellent for overmolding onto rigid substrates. This is especially important when a grippy or soft surface is desired, or vibration reduction or impact absorption is needed. The process involves insert or two-shot molding. If a mechanical lock is not possible, Americhem can provide material compatibility guidance to ensure a TPE material will bond well to the desired substrate.
For plastic co-extrusion processes, engineered thermoplastic elastomers can be used in combination with rigid thermoplastics to provide profiles with multiple sealing surfaces. As with overmolding, the correct TPE must be chosen for compatibility.
ARE THERMOPLASTIC ELASTOMERS RECYCLABLE?
Yes! Unlike traditional thermoset rubber, TPE is 100% recyclable because it can be reclaimed, melted and recycled contributing to a more circular economy. Certain bio-based TPEs offer an even greater promise of sustainability. While most thermoplastic elastomers are fossil-based, biocompatible TPEs made from FDA-listed food-grade ingredients may also be classified as biodegradable.
DOES TPE MATERIAL MEET REGULATORY REQUIREMENTS IN THE US AND EUROPEAN UNION?
While TPE industries find new opportunities for growth, regulatory compliance requirements are continually expanding to protect consumers' health. Mandates vary significantly between countries, regions and states. The right TPE manufacturer can mean a faster, more cost-effective route to regulatory approval and compliance. Americhem stays on top of the latest requirements and can help you select suitable TPE materials to meet common standards, including:
NSF/ANSI 51 food equipment
Proposition 65 – Warns California residents about potential exposure to carcinogens and reproductive toxins
REACH SVHC and RoHS – Controls restrictive substances in the EU