POLYOLEFIN PLASTIC ADVANTAGES & DISADVANTAGES
Polyolefin is a popular and cost-effective material used across a wide variety of industries and markets. Each type of polyolefin resin possesses specific qualities that may make it more or less suitable for a particular application. To ensure a polyolefin material will perform as effectively as possible, Americhem carefully evaluates all ingredients and examines the end product's intended use. Below are general advantages and disadvantages for product developers to consider when thinking about using a polyolefin plastic as their molding resin.
POLYOLEFIN ADVANTAGES:
Highly durable
Lightweight
Excellent chemical resistance
Superb clarity and transparency
Good weather resistance
Good flexural and tensile properties
Good hydrolysis resistance
Good tear resistance
Good abrasion resistance
Good insulating properties
Good stress crack resistance
Wide temperature performance range
Good colorability
Cost-effective
Recyclable
Eco-friendly to produce (no harmful vapors are emitted during processing)
Reduced energy required for processing
Water-resistant applications
POLYOLEFIN DISADVANTAGES:
Low melting point can limit performance (the HDPE melting point is higher than that of LPDE, allowing it to withstand higher temperatures)
Prone to light degradation (additives can resolve this issue)
Inferior shrink resistance
WHAT IS POLYOLEFIN USED FOR?

Polyolefins are used in a wide variety of applications where lightweight construction, high tensile strength, puncture resistance, chemical resistance and excellent clarity are required. In the automotive industry, polyolefin plastic materials play an essential role in fuel efficiency due to their light weight. Custom TPO materials allow for just the right feel for armrest skins, consoles, door bolsters and cup holders, while PP materials perform well on bumpers, body panels, trims and door claddings.
Polyolefins are an attractive option for outdoor stadium seats, given that UV, fire and weathering protection can be packaged to meet building standards and requirements. Textile manufacturers use polyolefin fibers to produce apparel items like gloves, activewear and lining fabric because of their excellent water repellent properties. These lustrous fibers have also become a preferred material for carpeting, carpet backing, upholstery and seat covers.
Because polyolefins are considered non-toxic, have extreme clarity and are recyclable, they are a popular and sustainable choice for bottle packaging. Polyolefins also make an excellent food-grade packaging material for container lids.
Americhem can help meet your functional, aesthetic and cost target requirements for these and other polyolefin applications.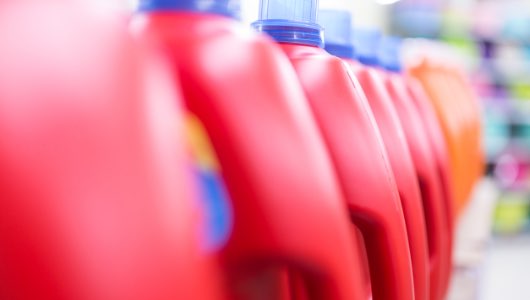 OUR POLYOLEFIN MATERIAL OFFERINGS
Americhem's polyolefin products can be custom developed for extrusion, injection molding, blow molding and compression molding manufacturing methods. Our polyolefin base resins include:
Polypropylene (PP)
Polyethylene (PE)
Polyolefin Color Additives & Effects : Americhem
Americhem's high-performance polyolefin formulations can help you achieve better tensile strength, tear resistance, stability, density and colorfastness under ambient and non-ambient conditions. Our polypropylene, polyethylene and polybutylene resins may be blended with carbon fibers, glass fibers, UV additives, flame retardant additives, antimicrobial additives, lubricant additives, custom color resins and other product additives to enhance their mechanical properties and improve certain aspects of their performance and processability. Explore our polyolefin reinforcements and additives here:
Exterior high chroma applications
Polyolefin Related Industries
WANT TO LEARN MORE ABOUT OUR POLYOLEFIN SOLUTIONS?
Click here to get in touch with one of our polyolefin compounding experts, who will be happy to answer any questions or provide you with more information about our design, testing and manufacturing capabilities.