Whether it's electromagnetic interference or radio-frequency interference shielding, or internally lubricated components for wear reduction and longer life, AEC has a broad portfolio of solutions that have been expertly crafted while providing the necessary flame retardancy and regulatory compliance.
Advanced Material Technology
Laptops, tablets, handheld devices, printers, and paper processing equipment are very much integrated into our personal and professional lives. Users demand lightweight, lightning fast technology, and exciting colors that are in-sync with the latest trends. In addition, 5G technology is sweeping the world, which is creating new opportunities for OEMs.
Want to talk to an expert?
Our highly experienced and educated teams are waiting for you! Click the button below to get in touch with one of our specialized team members today.
Contact a Representative Now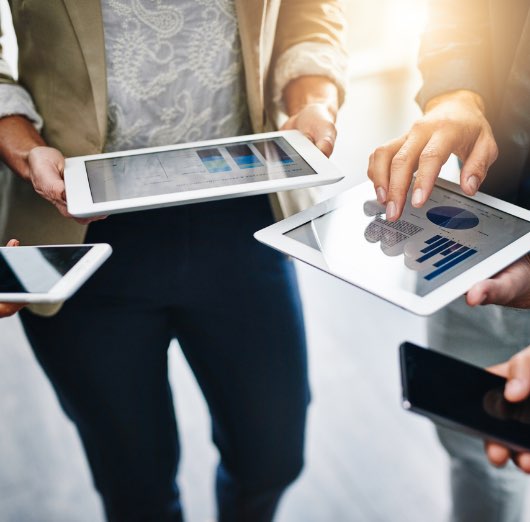 AEC's Unsurpassed Technology Advantages
Americhem Engineered Compounds is committed to ISO, LEAN Manufacturing, and Continuous Process and Quality Improvement (CPQI) in service of our customers. Since our establishment, AEC has been dedicated to attaining unparalleled expertise and quality in the formulation and processing of engineered resins for our customers. Additionally, AEC has a broad array of solutions that are compliant with global sustainability initiatives, such as REACH, RoHS, and WEEE.
Areas of expertise in the Business Equipment market include:
Housings and enclosures
Interconnected devices
Electrical meters
Connectors and blocks
Circuit boards
Mobile devices
Portable Scanners & Printers
Today's mobile technology extends to the manufacturing floor. The highest performance compounds eliminate weight and space so printers can be smaller, faster, and more portable than ever.
Lightweight, portable devices require the absolute highest material performance standards. Exciting coordinated colors for both the rigid and soft-touch grips, tough impact-resistant plastics, and flame-retarded plug-in features allow leading manufacturers to combine functionality and style. Blends and alloys of different thermoplastics offer improved impact strength and chemical resistance.
AMERICHEM'S BOTTOM LINE IS IMPROVING YOURS FOR
BUSINESS EQUIPMENT
The Business Equipment industry has grown globally, opening a new world of opportunities for suppliers and manufacturers. Maximizing your opportunities for growth is largely dependent on finding suppliers that can provide quality and consistency regardless of where the products are manufactured. Americhem has placed an emphasis on developing compounds for business equipment that yield consistent results, time after time – from region to region.

InStruc® Structurally Reinforced Compounds
Whether you are working with high temperatures, high load or just need a wear resistant plastic to boost the durability of your products, Americhem's glass and carbon fiber reinforced technologies can help you achieve significant improvements.

InElec® Electrically Active Compounds
Electrostatic charge build-up can wreak havoc on the inner-workings of various types of products and equipment, often causing safety concerns and premature wear. Americhem specializes in custom-designed thermoplastic technologies to disperse electrostatic charges. Our carbon fiber, carbon powder, stainless steel fiber, nickel-coated carbon fiber and antistatic alloy compounds are widely used for their proven abilities.

ColorFast® Engineered Compounds
Adding color to your designs has never been easier than with Americhem's ColorFast® pre-colored engineering resins. Whether you are looking to boost your brand identity or differentiate your products, ColorFast® is intended to provide you with shorter lead times and precise color matches.