DURABLE MATERIALS PROVIDING LONG-LASTING PERFORMANCE
Today's medical equipment OEMs face increasing design challenges with rigid materials for medical device housing and enclosure applications that need to provide excellent dimensional stability, impact resistance, flame retardancy, biocompatibility compliance and chemical resistance. Americhem Engineered Compounds is the leader in developing specialty blends and alloys to address the needs of the healthcare industry.
Want to talk to an expert?
Our highly experienced and educated teams are waiting for you! Click the button below to get in touch with one of our specialized team members today.
Contact a Representative Now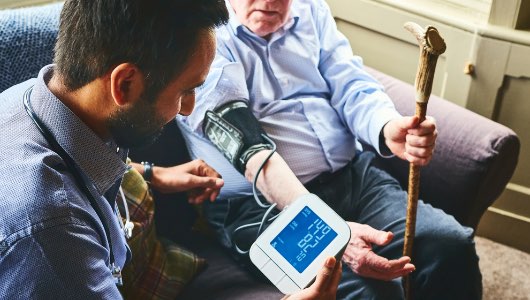 Blends & Alloys Offering Balance of Impact & Chemical ResistanceBLENDS & ALLOYS OFFERING BALANCE OF IMPACT & CHEMICAL RESISTANCE
Our blends and alloys are just a part of the equation. With our extensive menu of functional additive technologies, we can truly customize a solution to meet your design requirements and provide protection to critical components. We enhance the performance of your medical equipment enclosures by protecting them from a wide range of elements such as exposure to potent cleaning or sanitizing solutions.
Functional Additives for Enhanced Performance
We work beyond standard product requirements and enhance your product performance with functional additives such as:
Electrical Interference Products
AMERICHEM'S BOTTOM LINE IS IMPROVING YOURS FOR
MEDICAL DEVICE HOUSING & ENCLOSURES
We offer a wide array of specialty engineered compounds for today's demanding applications in Medical Device Enclosures & Housings:

ColorRx® Medical Compounds
Americhem offers a full line of thermoplastic resins for medical device housing applications under our proprietary ColorRx® product line. Americhem also provides custom compounds in resin grades that you specify. ColorRx® products meet the biocompatibility requirements specified by ISO 10993-5 guidelines.

InStruc™ Structurally Reinforced Compounds
Whether you want temperature-resistant medical enclosures, are working with high loads or just need a wear-resistant plastic to boost the durability of your products, Americhem's glass and carbon fiber reinforced technologies can help you achieve significant improvements for your heat-resistant medical enclosures.

InLube™ Internally Lubricated Compounds
Over time, parts and components can see a lot of wear in areas where plastic wears on plastic, or plastic wears on metal, causing performance issues, costly warranty claims and premature failure of your products. Americhem can help you protect your medical device housing and plastic medical enclosures with PTFE, silicone, MoS2 and graphite internally lubricated compounds that are custom designed to help you.

InElec™ Electrically Active Compounds
Electrostatic charge build-up can wreak havoc on the inner-workings of various types of housings for medical devices and plastic medical enclosures often causing safety concerns and premature wear. Americhem specializes in custom-designed thermoplastic technologies to disperse electrostatic charges. Our carbon fiber, carbon powder, stainless steel fiber, nickel-coated carbon fiber and antistatic alloy compounds are widely used for their proven abilities.