Roofing Color Masterbatch, Additive & Compounding Solutions
Americhem's long-standing experience and expertise in color formulation for the demands of both extruded and injection molded roofing applications have led to the most efficient and economic solutions in the industry. Our products are consistently among the lowest use rates, deliver consistent lot-to-lot color, and provide weatherability that stands the test of time.
Want to talk to an expert?
Our highly experienced and educated teams are waiting for you! Click the button below to get in touch with one of our specialized team members today.
Contact a Representative Now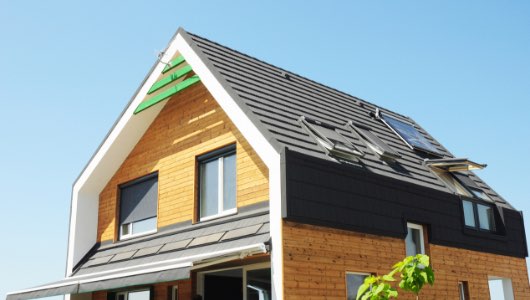 Americhem's Roofing Value Add
Our polymer additives for Roofing in Building and Construction are just one part of the equation. To help you succeed from initial design to commercialization, we employ a value engineering model that includes global availability of products and services, analytical, physical and weathering testing, quality assurance, continuing education opportunities, extrusion pilot lines and process simulation, custom product design and color trend forecasting.
We'll Help You Blow The Roof of Your Competition
Americhem is one of the first to offer exciting solutions that help replace costly and high-maintenance roofing materials. We've partnered with industry leaders to design true-to-life polymer roof products with these advantages:
Energy efficient, even in dark colors
Distinctive effects: antique, weathered or vibrant colors
Eco-friendly processing and recycling
Americhem's bottom line is improving yours for
Roofing
We've leveraged our decades of color masterbatch, additive, and compounding expertise to develop customized solutions to drive innovation in a form that makes sense for you whether it's a colored masterbatch, additive masterbatch, dry blend, or precolor. We address common challenges while boosting your process control, quality, and profitability.

eCap™ Precolor Compounds- ePVC
Enhanced PVC weathering for dark colors, Class A fire rating, good scratch performance, and the elimination of moisture whitening issues that come with blends.

eCap™ Precolor Compounds- HDPE
Bold dark colors with customizable gloss control and enhance scratch performance and UV stabilized for superior weatherability.

nDuramax®
Designed to extend the life of your products, ValuPak™ is Americhem's one-pack PVC additive solution, which provides dark color weatherability typically reserved for ASA. This product allows our customers to take advantage of enhanced performance in their own PVC compounds.

nGrain®
This streaker product provides an aesthetic that mimics the look of natural slate. With a slate-like appearance built directly into the formulation, our nGrain® simulated slate technology is designed for durability and is compatible with olefinic resins.

Full Color Masterbatch
Highly proven pigment palette with decades of weathering results: Strong application specific UV stabilizer understanding for tailored performance, Superior color design, Rapid speed to market, Lowest letdown ratio for cost optimization.

Full Color Dry Blends
Highly concentrated color matched pigment blends for use in compounding applications.