High-Performance Color Development
Americhem optimizes opaque and transparent colors to meet our customers' color and light transmission requirements. We work with customers to develop the right color to give their packaging a visual identity that commands attention. But color options are only one part of the equation. Our color experts utilize the latest industry technologies and proprietary Americhem solutions to deliver an exact match, every time.
Want to talk to an expert?
Our highly experienced and educated teams are waiting for you! Click the button below to get in touch with one of our specialized team members today.
Contact a Representative Now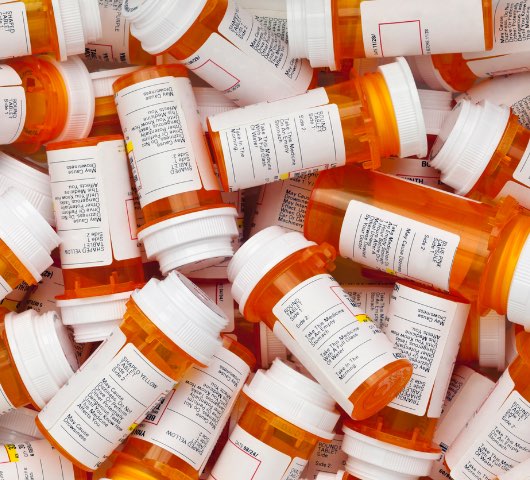 High Quality Medicine Bottle Standards are a Must
High quality standards for the manufacturing of medicine bottles does not begin and end with superb amber colorant, but it goes much deeper than that. Americhem has passed the rigorous testing for USP 661, which refers to a standardized test that scrutinizes multiple internal reflectance, thermal analysis, nonvolatile residue, and heavy metal reactivity.
Americhem Advantages for Ambers in Pharmaceuticals:
Customized Amber colors for private label and major name brands
Colors can be designed at fractional usage levels based on customers' feeding capabilities
Colorants are USP tested and certified through an outside lab
Documentation for the USP 661.1 , USP 661.2, USP 87, LOA and DMF will be provided upon completion of all testing
Pharmaceutical and Nutraceutical Applications
Americhem specializes in a wide variety of Pharmaceutical and Nutraceutical applications.
Vitamin and mineral supplements
Weight management supplements
Pharmaceutical ambers and whites
AMERICHEM'S BOTTOM LINE IS IMPROVING YOURS FOR
PHARMACEUTICALS AND NUTRACEUTICALS
With decades of experience serving the largest global manufacturers of packaged goods, our color and additive masterbatches are engineered to transform the way your products look, feel, process and endure the elements. We specialize in delivering distinctive products for every resin, process and end use to help you strike the right balance of science and art to deliver cutting-edge designs that command attention.

Custom Solutions
Americhem's critical designs can meet color and light transmission requirements for containers with a wide range of wall thicknesses.

dSperse® Minibead Masterbatches
Get the polymer industry's smallest minibead masterbatch, providing enhanced distribution, lower letdown rates, and decreased energy consumption and compatibility with a variety of resins.

nDuramax® UV Stabilizers
Americhem offers standalone UV additives with and without toners to meet light transmission requirements of less than 10% well beyond 370 NM.