OPTIMIZING PROCESSABILITY. REDUCING DEVELOPMENT COSTS. IMPROVING OUTCOMES.
Americhem Healthcare is committed to supporting the design of your custom surgical instruments on all three fronts. As more medical device OEMs convert from metal to plastic surgical tools, Americhem Healthcare leads the way with specialty engineered compounds that outperform the competition.
Selecting the most appropriate materials when designing and manufacturing tools and instruments used in a surgical procedure is critical for optimized clinical outcomes and reducing the risk of infection. Americhem Healthcare is highly experienced with sourcing and processing biocompatible materials for surgical instruments that comply with the necessary biocompatibility standards while balancing demanding mechanical properties.
Do you need help finding the right masterbatch or compound supplier for your project?
Americhem is committed to developing polymeric solutions for our specialty surgical instrument customers that face a variety of challenges during manufacturing. Click the button below to tell us about your needs, wants, or challenges in your projects; we'll come up with a masterbatch or compound solution for your plastic surgical instruments.
Tell Us About Your Project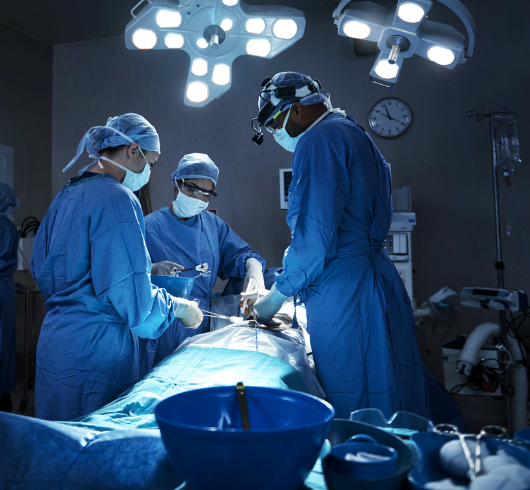 Improved Outcomes through Unbiased Material Selection
Americhem Healthcare is committed to technology advancement in the formulation and processing of engineered resins for our medical device customers. Our unbiased approach to resin selection means that our portfolio is open to optimize the design of your specialty compounds. Additionally, we have in-house expertise with blending, alloying, and compounding a host of performance additives for specialty features and performance in your custom surgical instruments.
Material functionality and benefits include:
Sterilization stability
Radio pacifiers
Antimicrobials
Anti-slip and overmold TPEs
Chemical resistance
HOW COLORRX® MEDICAL COMPOUNDS CAN HELP YOU
We assist you in choosing the correct resin with the required properties for new medical applications. With this level of support, Americhem can help expedite the plastic surgical instrument development process. Americhem Healthcare is committed to ISO, LEAN Manufacturing, and Continuous Process and Quality Improvement (CPQI) in service of our customers. Since our establishment, Americhem Healthcare has been dedicated to attaining unparalleled expertise and quality in the formulation and processing of engineered resins for our customers. Our culture emphasizes quality in all that we do, which is exhibited by:
Our State-Of-The-Art Manufacturing Equipment
Highly Trained Technical Staff
Experienced Workforce And Robust Quality Management System
AMERICHEM'S BOTTOM LINE IS IMPROVING YOURS FOR
PLASTIC SURGICAL INSTRUMENTS
The Healthcare and Medical Device markets have become global, opening a new world of opportunities for manufacturers and suppliers. Maximizing your opportunities for growth mainly depends on finding suppliers that can provide consistency and quality regardless of where plastic surgical instruments are manufactured. Americhem has emphasized developing compounds for specialty surgical instruments that yield consistent results, time after time – from region to region.
Frequently Asked Questions About Plastic Surgical Instruments
Americhem Healthcare is a trusted supplier of polymers for surgical instruments. As such, we're well-suited to answer your questions about plastic surgical instruments. Read the following questions to learn more, and contact us for additional details.
What Standards Does Americhem Healthcare Adhere to in Producing Biocompatible Materials for Surgical Instruments?
We adhere to the requirements specified by ISO biocompatibility guidelines when producing biocompatible materials for surgical instruments.
The Case for Plastic Surgical Instruments
The trend of transitioning from metal to plastic surgical instruments has increased, driven by numerous advantages. Polymers for surgical instruments, like those manufactured by Americhem Healthcare, offer specific unique characteristics that make them superior to traditional metal materials in many cases. They can be significantly lighter, increasing surgeons' comfort and control during procedures. Polymers also offer flexibility in design, as plastics can be molded into intricate shapes, allowing for the creation of specialty surgical instruments for specific procedures. Perhaps most critically, plastic tools are easy to sterilize and can be designed for single-use, reducing the risk of cross-contamination and the spread of infections.
Why Choose Americhem Healthcare?
Americhem Healthcare stands as an industry leader in biocompatible materials for surgical instruments. Our commitment to quality and safety, combined with our extensive expertise in polymer science, positions us as an ideal choice in this field. Americhem prides itself on producing polymers that not only meet but exceed industry standards, ensuring superior performance. Our rigorous testing procedures further guarantee that each batch of polymer aligns with the stringent requirements for your plastic surgical instruments. Additionally, we offer a broad range of customizable solutions, providing the flexibility to create polymers tailored to the unique needs of each medical application. These factors, combined with our proven track record and strong customer relationships, make Americhem Healthcare a reliable and preferred choice for custom surgical instrument applications.
Depend on Americhem Healthcare's Polymers for Surgical Instruments
Take the next step towards superior plastic surgical instruments. Experience the Americhem difference today through our high-quality polymers for surgical instruments. Enhance patient safety, increase surgical precision, and revolutionize your product line with our customizable polymer solutions. Don't compromise on quality regarding specialty surgical instruments — join the growing list of medical device manufacturers who partner with Americhem. Contact our team today to discuss your specific needs.